As one of the most popular spirits in the world, gin has been going through what we like to call a 'ginaissance' over the past couple of years, as more and more people discover the versatility of this unique spirit. While you may have your own favoured gin of choice, have you ever wondered, just how is gin made? While you don't need a degree in science or to be a master distiller to understand the ins and outs of gin production, it can help to understand the basics.
With a vast range of different gins on the market, we wanted to explain how gin is made so that the next time you pick up this popular drop, you understand just what goes into a bottle. From the history of gin to the process of making gin, we've outlined everything to know about gin production.
The history of gin
Before we dive into how gin is made, we thought we would first take a look back at the long history of gin so you understand how gin came to be – it may not be what you think!
The first recorded instance of the distillation of juniper cones was by monks in Italy during the 11th century however, gin's origin can be attributed back to Franciscus Sylvius. A 17th-century professor of medicine at the University of Leiden in Holland, Sylvius distilled the juniper berry with spirits to produce an inexpensive medicine that would provide diuretic properties, already found in juniper berry oil. Originally produced to treat the symptoms of gout and dyspepsia, gin became so popular that it was then introduced to England by soldiers returning from the Low Countries.
In the 18th century, excessive consumption of gin in England was largely recognised as a "social problem", depicted in one of William Hogarth's most notable prints 'Gin Lane'. In the print, Hogarth depicts the poverty, public drunkenness, and crime, which resulted from the cheap availability of gin. By the year 1720, some estimate that as many as a quarter of all households in London produced their own gin. What was known at the time as the 'The Gin Craze', Parliament had to pass five legislative acts over 22 years in an attempt to rein in the population's consumption of gin.
While gin is still very popular to this day, the spirit that takes its name from the French name for the juniper berry 'genièvre' is now consumed on a much more responsible basis!
Gin production methods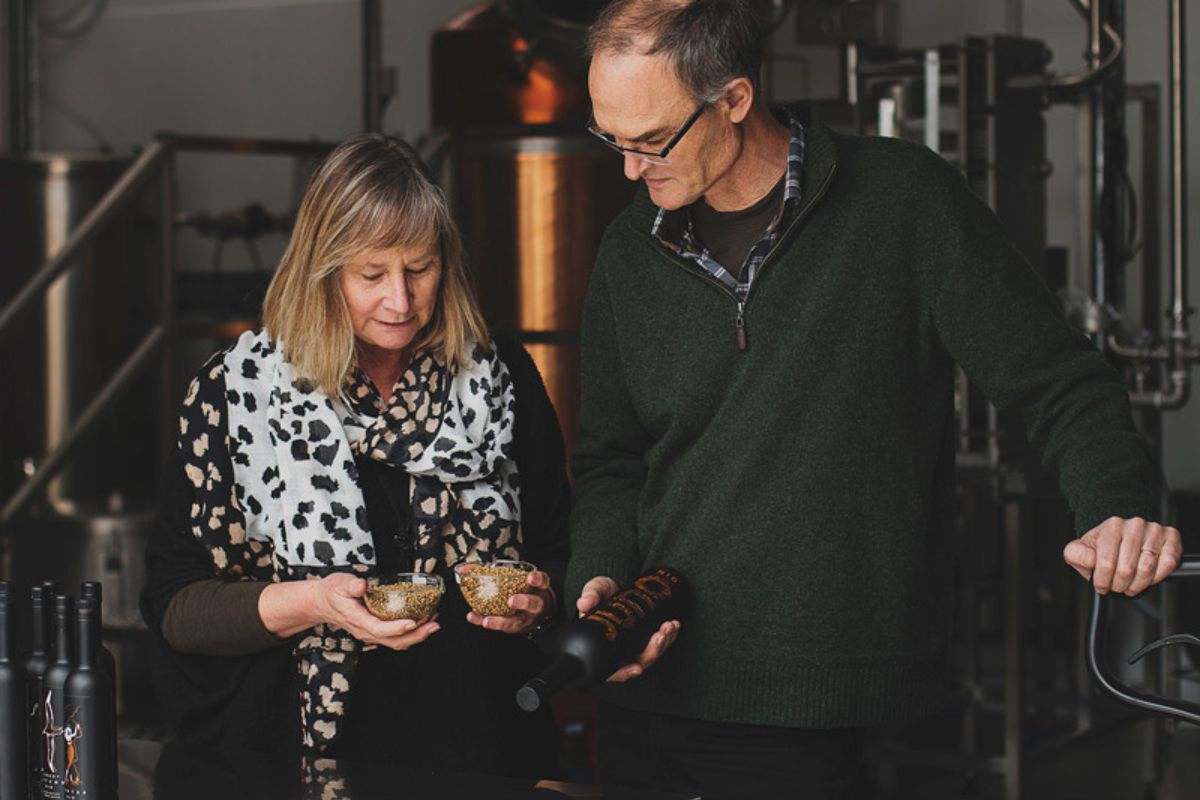 When we talk about how gin is made it's also important to understand the different methods or processes of gin production. There are three common gin processes which include:
London process
Originating in England, the London process is a batch distillation process to manufacture gin. All the botanicals are added to the still at the same time and the distillate produced can only have ethanol (the alcohol in the spirit), water and sugar added post distillation. If no sugar is added to the distillate then the gin produced is called a London Dry gin.
A London Dry gin will always be colourless and it is an easy way to tell the difference in the styles. As it is a batch process, London Dry gins are the hardest to make consistent and therefore shows the skill of the distiller.
Distilling the individual botanicals
In this method, each botanical is distilled individually and added back together at a ratio that the distiller feels creates the flavour that characterises their gin. This method allows for differences in flavour provided by the botanicals due to the growing season, source and amounts. It also allows for atmospheric differences between distillation days which can also affect flavour.
Steeping
Steeping or as it is sometimes referred to as 'bath-tub gin' is exactly as it sounds. All the botanicals are added to a container and the alcohol added. It is left to soak for a period of time and the 'big' bits are strained out. This gin will have some colour that has leached out from the botanicals.
Gin styles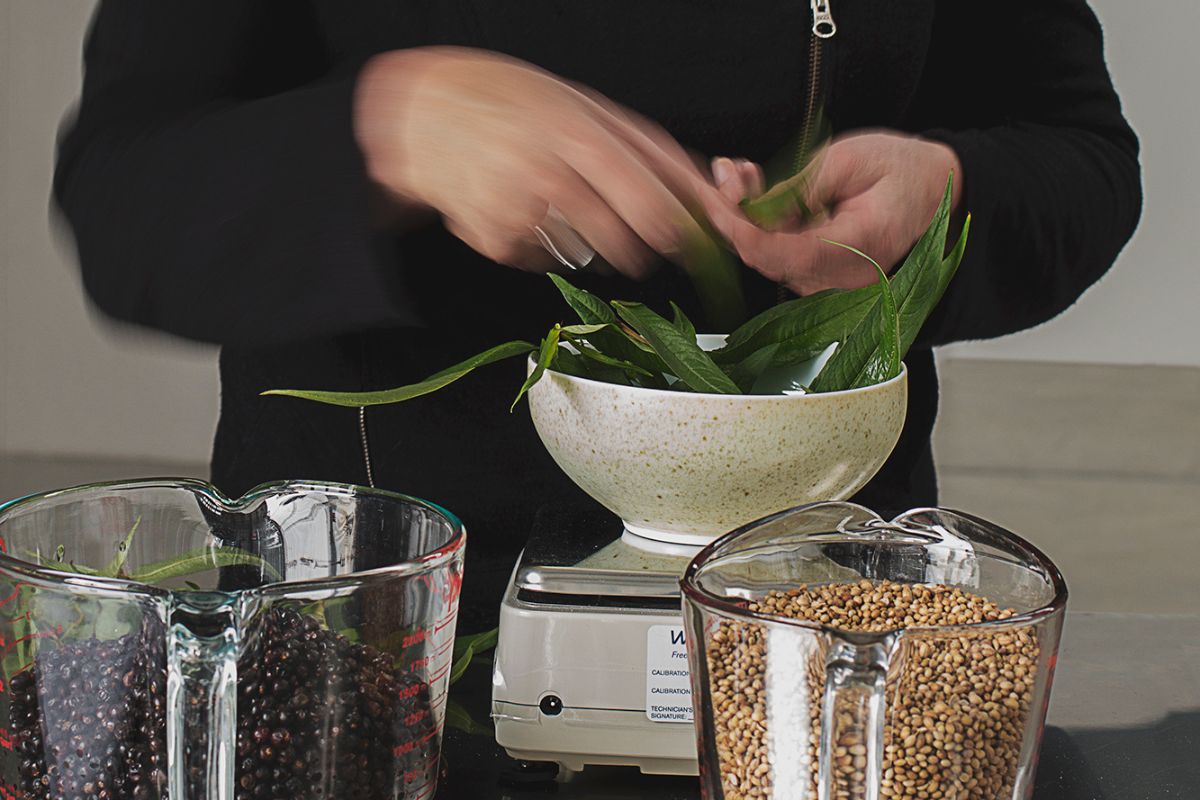 The style of a gin determines the flavour profile, which provides its unique taste.
While there are various styles of gin, for a gin to be classed as gin, it must be "a clear neutral spirit – of agricultural origin, that is predominately flavoured by juniper and bottled at between 37.5% and 45.0% ABV". As the definition states, gin must be predominately flavoured by juniper, but all modern gins also include coriander seed and angelica root. After that it is up to the distiller to choose botanicals that create the flavour profile that works for them. Typically it will be citrus, spice and heat that create the balanced flavour profile.
Below we've listed some of the most common gin styles in today's day and age.
Plymouth
Plymouth style gin must be manufactured within the city boundary of Plymouth in the South of England and often features less juniper flavour. The alcohol level is higher with this type of gin, with many Plymouth gins being distilled at 57% alcohol by volume. It's also important to note that while many distilleries can produce other styles of gin, Plymouth Gin Distillery is one of the only distilleries with the right to produce this type of gin.
Old Tom
Old Tom is an older style of gin that has a rich malt mouthfeel and distinct, sweet citrus notes. It dates back to the 18th Century in England when gin was made from ingredients such as sawdust and turpentine, so sugar was added to help with the flavour. It is one of the reasons why sugar can be added to the London style gin today.
Genever
Genever or 'jenever' is what many refer to as the original gin that dates back to 16th century Netherlands. Richer than normal gin, genever has a savoury, earthy, malt flavour. Produced in Holland and Belgium along with certain parts of France and Germany, genever is distilled from malt wine spirits instead of neutral grain spirits (i.e. vodka).
Navy strength
Gin that is 'navy strength' style is produced by overproof bottling that results in an alcohol by volume of 57%. With a flavour that is spicy or fiery, it works well in mixed drinks. Why called 'navy strength' you wonder? During wars in the 16th and 17th Century, gin became a staple for the Royal British Navy. Gin rations and gunpowder were often stored in the same location so if a 57% spirit started to leak out of its container and onto the gunpowder, there was no risk of destroying this material (it would still light).
Contemporary (New Western & New American)
Contemporary gins go by many different names, most commonly New Western and New American, however they aren't strictly produced in the U.S. While contemporary style gins all contain juniper, they defy many common principles when it comes to gin flavour with many distillers experimenting with unusual botanicals like seaweed, and olives.
How is gin made?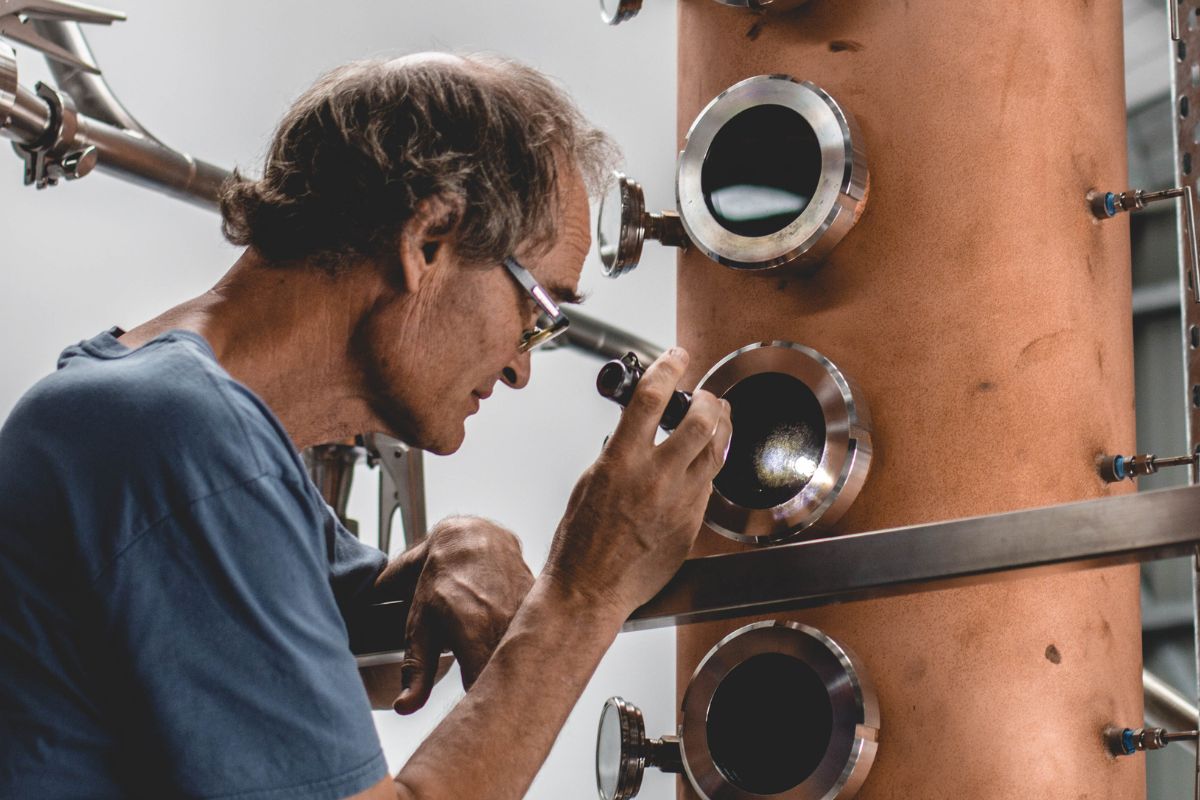 Now that you understand the history of gin and the styles of gin available, we're now ready to delve into how gin is made! There are three main methods of gin distillation which are steeping, vapour infusion and vacuum distillation. These methods are used by gin distilleries to purify their ethanol or alcohol base and infuse botanicals into the gin itself.
Here we explain these methods in detail.
1. Steeping
For this first technique the distiller mixes ethanol and botanicals in a pot still which is a metal container situated over a heat source. The botanicals then steep into the base of the spirit. Depending on the depth of flavour that the distiller wants to achieve, botanicals may be removed quite quickly during this process or steeped for up to 48 hours to increase the level of flavour.
2. Vapour infusion
The second method of making gin involves a custom still known as a Carter-head still, which features a suspended basket. The basket contains the botanicals and hangs over the surface of the base spirit. Once the spirit is heated in the still, ethanol vapours rise up into the basket holding the botanicals. From here the botanicals release their essential oils into the vapour carrying distinct flavours with them, that then infuse with the gin.
3. Vacuum distillation
The third and final gin distillation method also referred to as 'cold distillation' requires a low-pressure vacuum environment, to reduce the boiling point of the ethanol. Distillers that use this method swear by it to ensure minimal damage to the botanicals and subsequent flavour, due to the reduction in extreme heat.
What makes a great gin?
There are many steps involved in making a great gin to ensure that the flavours are just right, from selecting the base ingredients and style of gin to the distillation method, every gin distillery will have their own particular methods to ensure they get the right gin flavour.
Here at Juno we carefully hand-select the ingredients that go into all of our gins, to showcase the rich flavours unique to Aotearoa. Many of our gins like our signature Juno Extra Fine are small-batch, triple distilled, London-dry style with juniper the star of the show. Using our bespoke 400-litre copper still Lila, we vapour infuse with a London Dry style method of distillation which ensures the unique flavours of each individual Juno Gin really sing. With the ability to produce 300 bottles a batch of Juno 700ml Extra Fine and 1,000 bottles of Juno 200ml seasonal gins, Lila is quite the workhorse!
Whether you're new to the gin game or a connoisseur, we hope that you now understand the background of gin and the varying ways that it's produced. Want to know more about Juno Gin and how it all started? Simply head to our website to view our story. Alternatively, if you're in Taranaki and you'd like to take a behind-the-scenes look at our gin distillery, simply book in a tour and tasting here.