Sustainability – it's a hot topic that's at the forefront of many people's minds not only in Aotearoa, but throughout the world. More now than ever people are looking for sustainable choices in their day-to-day lives, whether that be swapping plastic produce bags for a reusable alternative or opting for a beverage that's made with sustainable practices in mind.
A recent study shows that nearly half of Kiwis surveyed said they will refuse to buy a company's products unless they have an environmentally sustainable business model. Furthermore, 37% said they will tell family and friends to also avoid the brand. This new approach to purchasing is important as it signifies a shift in how consumers think – with sustainability top-of-mind we must all adapt.
In New Zealand we are fortunate to have a climate that not only allows us to produce an abundance of natural resources, but we have access to the tools and creative thinking that allow us to produce goods in a more sustainable way. But to make the most of these opportunities, we need to make good choices.
Here at Juno, we have followed a sustainable ethos from the start and the ability to 'make it right' by not just our people but our planet has always been at the forefront of how we produce Juno Gin.
Over the years our sustainable practices have grown to ensure that we're doing the best we can at every step of the manufacturing process. From the copper still that we use to the types of botanicals we select, we want to explain our sustainability story so that you can be sure that your next glass of Juno will not only deliver on great flavours, but our commitment to the planet.
Make it Right: The foundation of Juno Gin
When we first started Juno Gin we developed three core values that would underpin everything we do – 'Make it Fun', 'Make it Together' and 'Make it Right'. While 'Make it Fun' and 'Make it Together' are self-explanatory, 'Make it Right' digs a little deeper to ensure we're doing right by both our people and our planet.
Developing the Juno Gin range has always been a chance for our team to showcase our creativity, love of local Taranaki flavours and most importantly, our passion for world-class gin. To ensure we're giving you a beverage that only delivers on flavour but showcases our commitment to sustainability, we need to ensure that every process we follow at Juno is kind to our planet.
This commitment to sustainability underpins everything we do.
Our gin distillery & copper still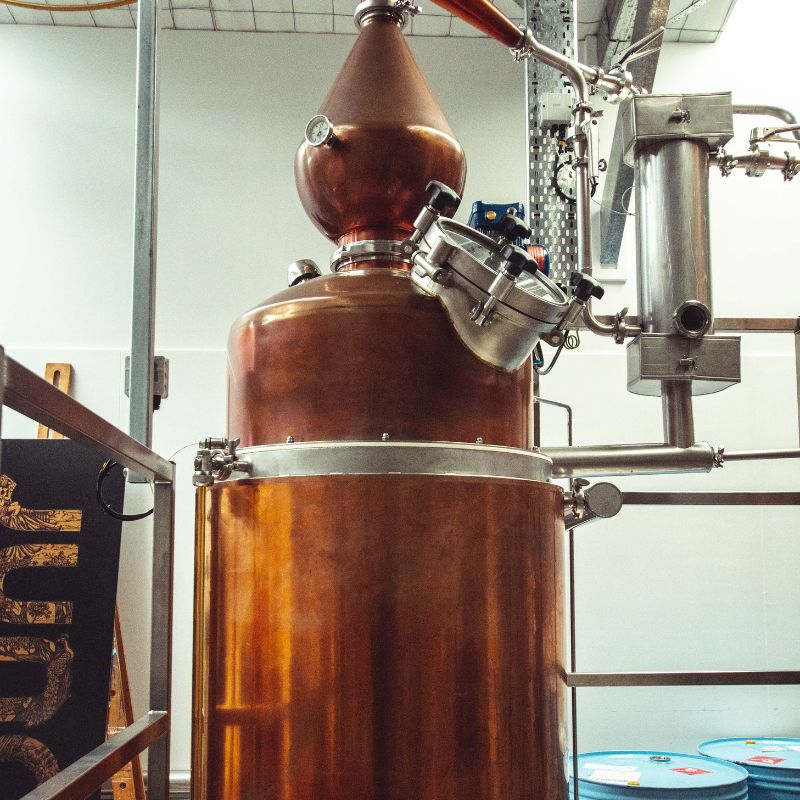 From the very beginning we wanted to ensure we got the basics right so that Juno Gin would live and breathe sustainability – and that all starts at the distillery.
During the initial distillery design phase we worked with local Taranaki engineering firm, Rivet, to create a still that would be able to separate waste streams – for any by-product processing it's important that waste streams are clean and uncontaminated. Aptly named Lila, the 400 litre copper still was custom manufactured to accommodate this. Lila's pot was built on a platform, so that a separation tank could be wheeled underneath when required. At the end of every distillation run Lila is emptied so that the used juniper cones can be separated from the remaining still water.
Closing the loop on the distilling process ensures that all materials are re-purposed and nothing goes to landfill. The juniper cones are packaged up and sent to local a chocolatier who uses the cones to make Juno Gin truffles. Any remaining botanicals are then composted with the other 'gin basket' botanicals and used by a local botanical grower. Work is also underway at the distillery to build a worm farm so that organic waste can be composted on-site to fertilise the gardens.
We also have an exciting collaboration with local brewery, Three Sisters, who use our post-distillation still water to make beer. Post distillation juniper cones not only soften but some of their starch is turned into sugar. This along with the aromatics from other botanicals used in the gin making process develop a flavour of beer typically associated with a Witbier or 'white beer' generally brewed in Belgium and the Netherlands. Three Sisters have run with this flavour combination and the Witbier is now available on tap at their local Brewery in central New Plymouth.
Sustainable water systems & energy savings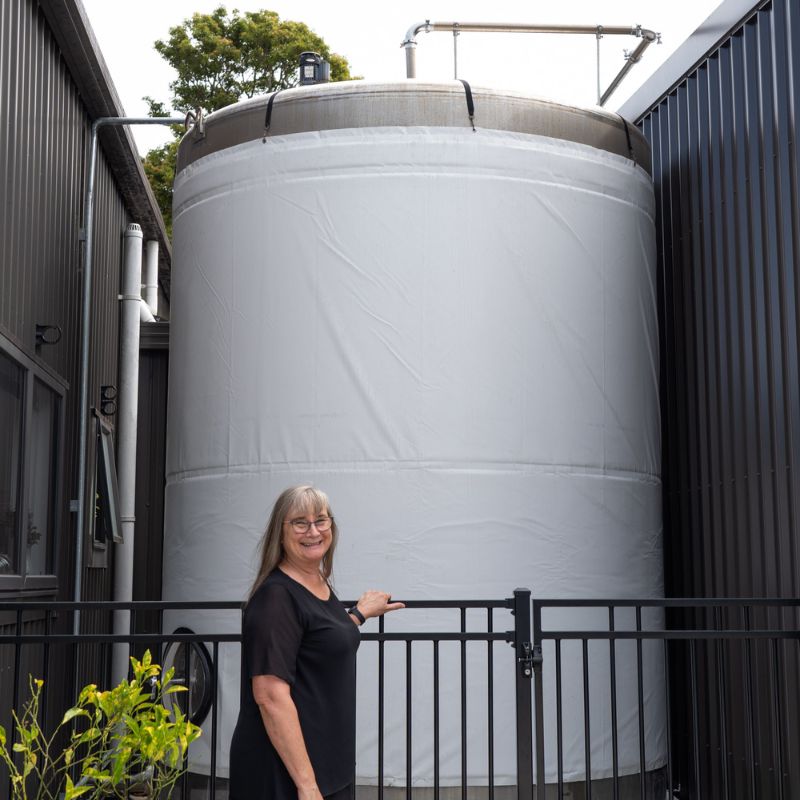 Water is essential for making gin, however it can end up being very wasteful if sustainable practices aren't followed. Typically, a gin distillery will use 26.21 litres of water per litre¹ of spirit manufactured; at Juno we use less than five litres. This is achieved through a dedicated chilled water system comprising of a 12,000 litre insulated storage tank and chiller unit.
The chiller unit is night loaded to make the most of off-peak power usage; the storage tank is then located in the shadow of the distillery building which makes use of passive cooling. These energy-efficient measures enable us to keep our power usage low. By using only what we need and utilising off-peak hours for power usage, we're ensuring we're making the most of this natural resource, in the most efficient way possible.
Locally sourced botanicals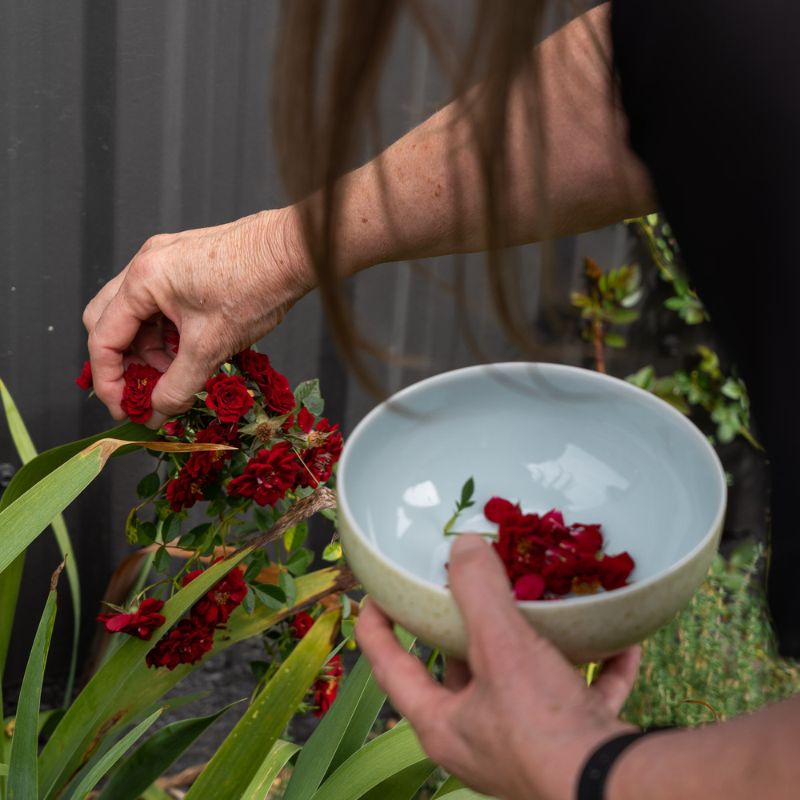 While the distillery is a key element to producing Juno Gin, there is much more involved when it comes to flavour – this comes down to hand-selected locally sourced botanicals.
Traditional gins use flavours like juniper, coriander seed and angelica root which are normally grown overseas. Our aim at Juno has always been to source botanicals locally, however when we started distilling in 2016 only coriander seed was grown in New Zealand but had never been used in distilling gin, and the rest had to be imported. We set about finding a way to start cultivating key ingredients like Juniper locally.
Juniper cones used for distilling gin are typically sourced from Juniperus communis trees – our research showed that seeds had been imported and germinated in the 80s, with the trees then being sold across Aotearoa. We knew Juniper was out there – we just needed to find it.
Teaming up with Massey University, we went on 'The Great New Zealand Juniper Hunt' to find any lasting trees. Over the duration of the hunt, 100 trees were found and from the samples collected, 40 were Juniperus communis. Juniperus communis is dioecious which is a necessity in order to pollenate (the trees are either male or female) and they wind pollenate, so both the male and female must be planted close to each other to generate fertile cones on the female. We are now closely working with Massey University to identify trees suitable for propagation and planting in New Zealand.
Having access to our own locally grown Juniper means that we can lessen our reliance of overseas imports, and reduce the subsequent carbon emissions that arise from these practices.
Resource Wise Business Programme
Further to our sustainability practices, we are also involved in the New Plymouth District Council's 'Resource Wise Business Programme' which aims to reduce the amount of waste Taranaki businesses send to landfill. When we first joined the programme we had a diversion rate of 76%; in the years since we are now sitting at 93%.
A more sustained effort to use only recyclable and reusable materials ensures that we can maintain a +90% diversion rate – this includes everything from our Juno Gin packaging to the specialist reusable packaging we provide our hospitality retailers. Over the past year alone, purely by offering our hospitality retailers refillable jerry cans, we have saved over 3,000 gin bottles from going to landfill! Every small thing counts and we feel very proud to be leading the sustainability charge in Taranaki.
From our copper still to our sustainable water system, we are continually searching for ways to produce the best gin in the world, while also reducing our environmental impact. Gin distilling is an ever-growing industry and one that is becoming increasingly popular in New Zealand. Because of this it's critical that we pave the way now so that we can ensure our environment is protected in the future.
Want to learn more about Juno Gin and our sustainability ethos? Read our sustainability story for more information or browse the entire Juno range.
---

References: 
Brewer & Distiller International, page 25, Vol 8, issue 9, September 2022