Very few spirits offer the same complexity of flavour as gin. While an important component to any gin is a neutral alcohol base, one of the primary drivers of flavour are botanicals – these are the herbs, seeds, flowers, plants or spices added during production that add flavour and depth.
In New Zealand we have seen rapid growth in the distilling industry with many craft distilleries forming in recent years. Just a decade ago, it might have been surprising to find local spirits on the shelf. Now the country's distilleries are creating everything from whiskey to liqueurs, vodka to vermouth, and gin. Since Juno's inception, more and more distilleries have cropped up and there are now almost 150 in New Zealand, 85% of which specialise in gin.
With so much choice now available, it's important to understand what goes into a good gin. Is it more than just the right mix of herbs and spices?
As leaders in the industry, we wanted to explain just how gin gets its flavour. Between choosing your botanicals to a handy tool called the gin flavour wheel, here's everything you need to know about New Zealand gin flavours.
Gin base & botanicals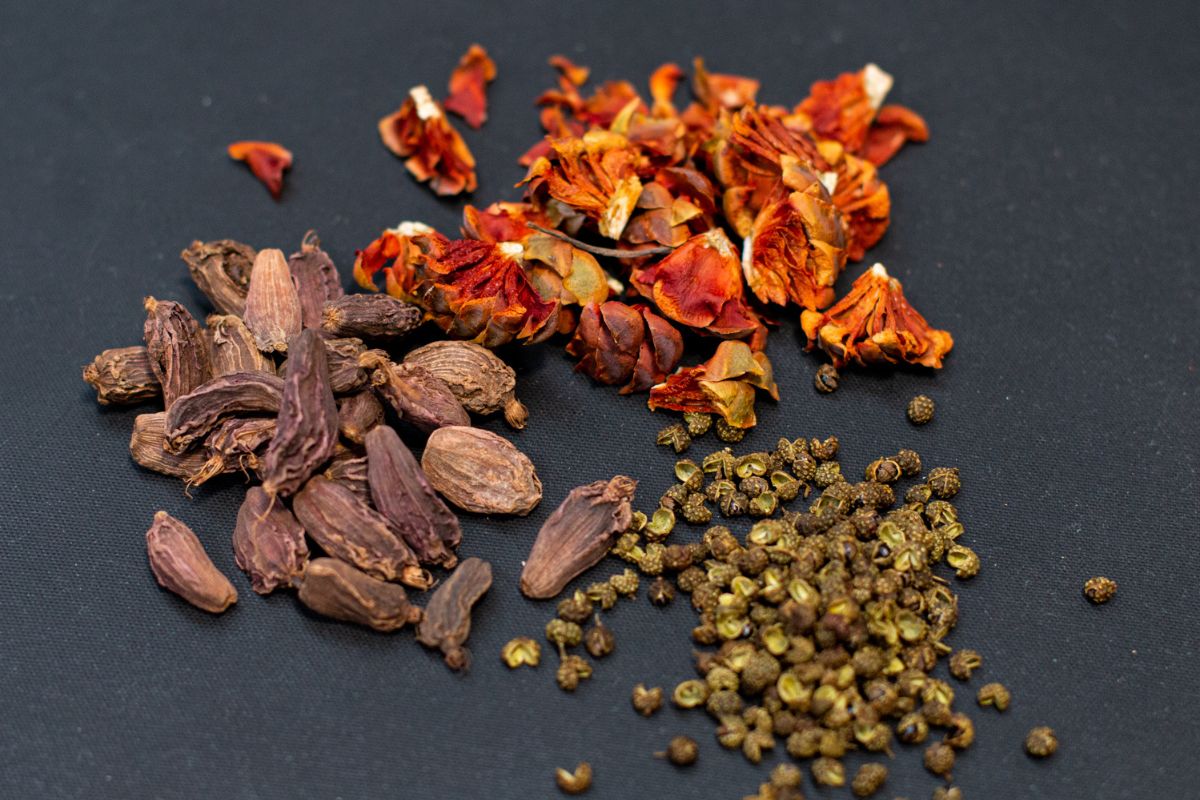 When crafting any gin you will need a neutral alcohol base (often vodka), and the right mix of botanicals. Botanicals are plant material which can be any part of a plant from the roots to the petals, and everything in between. When creating gin, the distillation process extracts aromatics from the botanicals and these aromatics provide the distinctive flavour to the spirit.
Botanicals are the primary driver of flavour in any gin and will vary depending on the flavour profile that a distillery wants to achieve. From juniper to coriander seeds, here are the most common botanicals used in gin.
Juniper
The most common flavouring in all gin is the juniper berry. In fact, for a gin to even be classified as gin, it must contain juniper. Most juniper berries are still sourced from Italy, Serbia, Macedonia and India.
Coriander seeds
Coriander seeds are often present in many gins. They add a depth of spice, some fat for mouthfeel and depending on where they're sourced from, can also add peppery notes such as ginger or sage.
Angelica Root
Providing a rich and earthy aroma, Angelica Root is often described as slightly sweet and a little bitter. Angelica Root is a key ingredient as it adds a slightly oily texture to the mouthfeel and fixes the flavours of the other botanicals and marries them together.
Citrus Peels
Citrus peels from lemons or oranges are often used in gin to complement the botanicals and add a zesty element.
Cinnamon, cassia bark and liquorice root
The last botanicals often found in gin are cinnamon, cassia bark and liquorice root. As sweeter and spicy botanicals, they balance out more bitter or earthy botanical noted above.
Understanding gin flavour
While each good gin begins with the right alcohol base and botanicals, getting the mix just right is another challenge. Understanding how flavours will marry together and better yet, portraying this to consumers is an art itself.
With an abundance of gins now available here in New Zealand, gin drinkers want to know just what flavours have gone into a gin so they can make an informed decision. That's where the flavour wheel comes in.
Origin of the flavour wheel
Many food and beverage manufacturing industries utilise a flavour wheel to convey the sensory qualities of a product – often taste and smell. The first ever flavour wheel was developed in the 1970s for beer, however the flavour wheel concept didn't take off until the 1980s with the development of the wine aroma wheel.
Invented by Ann Noble, a sensory chemist and professor at the University of California, Noble wanted to take some of the mystery out of wine flavours. With the wheel in hand, she wanted to enable budding wine connoisseurs to visit wine tasting destinations like the Bordeaux region of France, to get a better understanding of what they were tasting.
The flavour wheel concept has since developed over time where it's not only used in the beer and wine industries, but also gin.
The development of a New Zealand gin flavour wheel
Now used by many gin distilleries, a flavour wheel is a tool that allows gin makers to more accurately portray all the flavours that a gin encompasses. With the rapid development of New Zealand's gin industry, we saw a gap in the market for a new flavour wheel which would better describe the Southern Hemisphere flavour profiles.
Traditional gin flavour wheels don't often accommodate New Zealand botanicals like local citrus, herbs and native ingredients such as mānuka, kawakawa and horopito. Here at Juno, we wanted to take the flavour wheel concept further by creating our own New Zealand gin flavour wheel.
Working with Massey University researchers, we found the most common terms used to describe 22 New Zealand gins and included international brands like Gordon's and Bombay Sapphire for comparison purposes. From this research we were able to produce our very own gin flavour wheel, which can be used to pinpoint the key flavours of common New Zealand gins.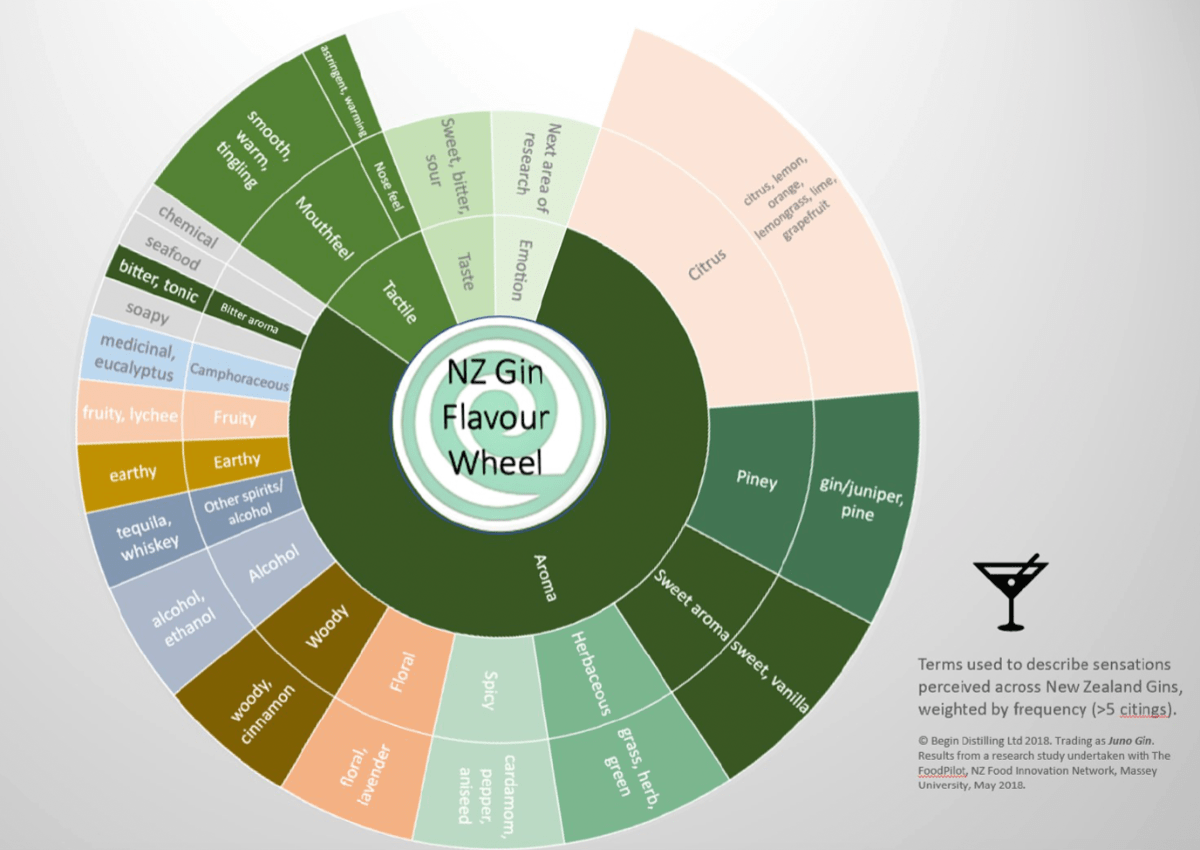 Juno Gin's NZ gin flavour wheel in conjunction with Massey University.
Juno gin flavours
Flavour is key to any gin and we feel proud to have produced a number of premium gins here at Juno using our very own 400-litre copper still aptly named Lila. All our gins are a unique blend of juniper berries, coriander seed and orris root and depending on the gin itself, will have further botanicals added to achieve just the right flavour profile.
Using our colour wheel research, we now have a handy feature on the website – what we like to refer to as a flavour matrix. Simply browse any of our gin range and you will find the flavour mix for each gin. The idea being that you will be able to taste the flavour profile when sipping any of our premium gins.
Take Juno Extra Fine for example, with strong citrus notes it's also very herbaceous, heavy on the juniper and heavy on the heat.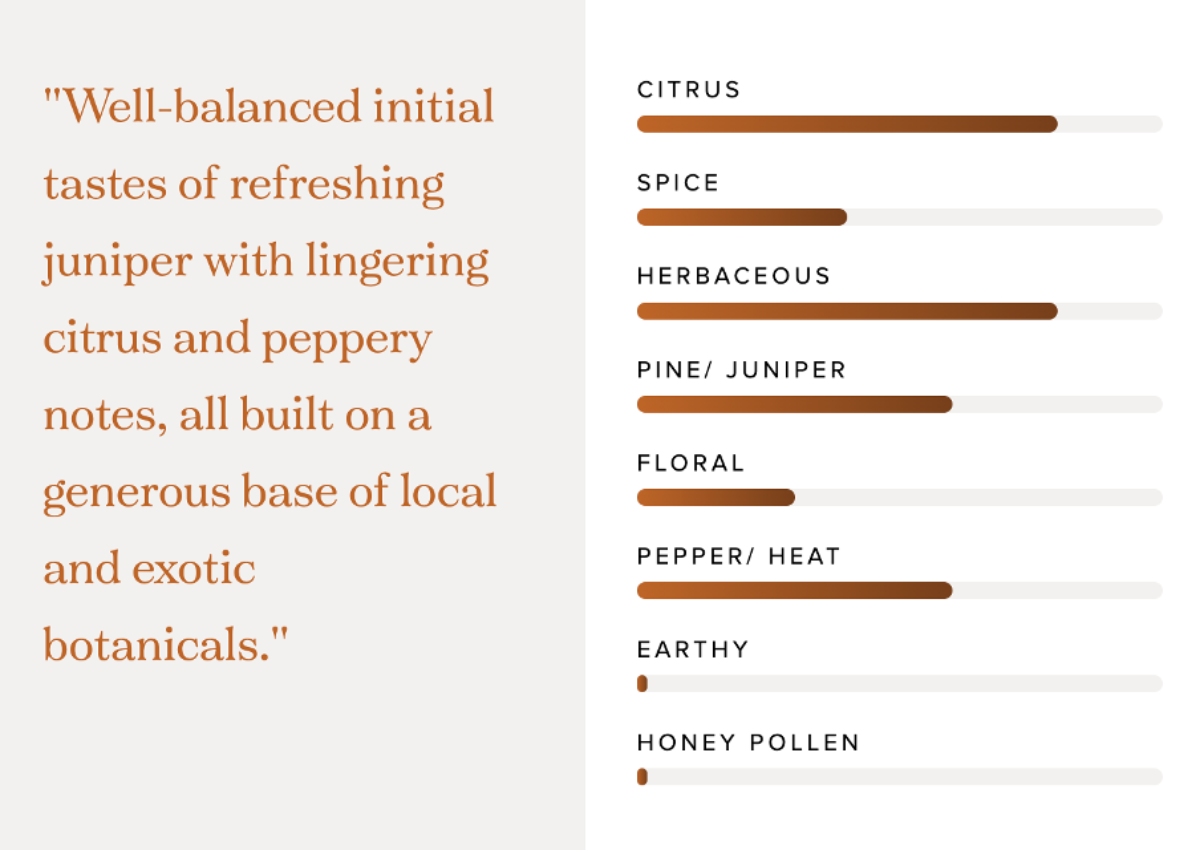 Juno Extra Fine flavour matrix.
Hand-selected botanicals
Implementing sustainable practices across the business is top priority and one of the foundations we have at Juno is to "Make it Right". This commitment to sustainability underpins everything we do.
The release of a new gin each season allows us to not only experiment with new gin flavours but utilise what mother nature has at the time of production. We hand-select many of the botanicals we use based on what's available locally and in abundance. And for those only available overseas, we are working with local horticulturists and research bodies in order to switch from importing to growing in New Zealand instead.
As you now know, there are many different factors that play a part in the flavour of your favourite New Zealand gin. From the mix of botanicals to the flavour wheel and much more, there's a lot of time that's goes into creating your perfect blend.
As industry leaders, we would be happy to answer any of your questions about gin flavour. Or if you're looking for the perfect Juno blend, we can point you in the direction of the gin best suited to your palate. Simply reach out to our team here or browse the entire Juno range below.